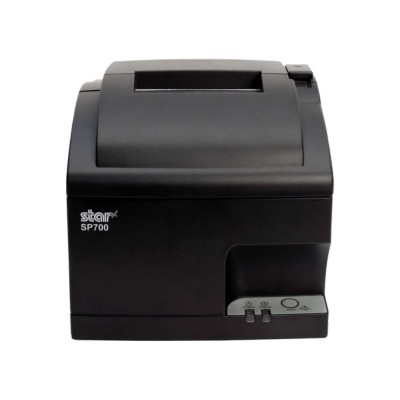 Star Micronics, SP742, Garment Tag Printer, CloudPRNT, Ethernet, USB
Accessories

-- Please Select an Option --

Small Pack, Bond Receipt Paper, 3"(57Mm)X165'(50.29M), 0.45" Core, 2.89"(73.41Mm) Od, White, 10 Rpc, Priced Per Case

Star Micronics, Ink Ribbon Cartridge, SP700 Black/Red Ribbon 1.5M Characters Black, .075M Characters Red

SP700 Black Ink Ribbon

Star Micronics, Impact, Swap-A-Star
For leasing options, please submit an application here.
Built specifically to work in environments where heat and humidity can erode the type on the kitchen order, the SP742 is an ideal 
kitchen printing solution
. This fast, two-color printer offers crisp, easy-to-read type for quick viewing, a clamshell design for easy paper loading, and an embedded power supply for space efficiency.
Cutter, Ethernet, CloudPRNT, USB, Two Peripheral USB, Internal Power Supply
High-Speed Throughput: 13 Receipts per Minute (4.7 Lines Per Second at 42 Columns or 180mm/second)
Clamshell Design for Easy Paper Loading
High-Quality Graphics Printing
Spill-Proof & Heat-Resistant
"Drop-In & Print" Paper Loading
Installation with Full Driver Suite Included
Built specifically to work in environments where heat and humidity can erode the type on the kitchen order, the SP700 is an ideal solution
This fast, two-color printer offers crisp, easy to read type for quick viewing, clamshell design for easy paper loading and an embedded power supply for space efficiency
Supports Star's cloudPRNT communication protocol that sends print jobs directly to the printer through the cloud