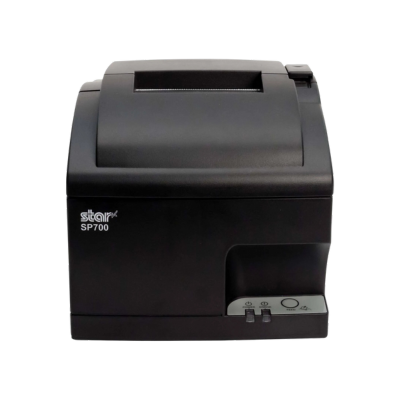 Star Micronics, Sp742, Impact Receipt Printer, Cutter, Ethernet, Cloudprint, Wifi-LAN, USB
Accessories

-- Please Select an Option --

Small Pack, Bond Receipt Paper, 3"(57Mm)X165'(50.29M), 0.45" Core, 2.89"(73.41Mm) Od, White, 10 Rpc, Priced Per Case

Star Micronics, Ink Ribbon Cartridge, SP700 Black/Red Ribbon 1.5M Characters Black, .075M Characters Red

SP700 Black Ink Ribbon

Star Micronics, Impact, Swap-A-Star
For leasing options, please submit an application here.
Built specifically to work in environments where heat and humidity can erode the type on the kitchen order, the SP742 is an ideal solution. This fast printer offers crisp, easy-toread type for quick viewing, clamshell design for easy paper loading, an embedded power supply for space efficiency, and the ability to print carbon copies.
Available with CloudPRNT and Bluetooth technologies, the SP742 makes kitchen printing even more accessible. The printer's CloudPRNT interface can support restaurants using a Web browser-based application to provide a seamless transition from front-of-house to back-of-house operation. Ideal for online ordering, the SP742CloudPRNT communicates directly to a server with no need for an additional tablet, software, or SSL certificate at the local level. In addition, the Bluetooth model allows for easy setup and use.
High-Speed: 180mm/sec
Clamshell Design for Easy Paper Loading
Embedded Power Supply
High-Quality Graphics Printing
Two-Color and Carbon Copy Printing
Spill-Proof and Heat Resistant
Swappable Interfaces Available
 Apple MFi-certified, Star's SP742 kitchen printer is approved for use with Apple products, and features operating system support for iOS, Android, and Windows.