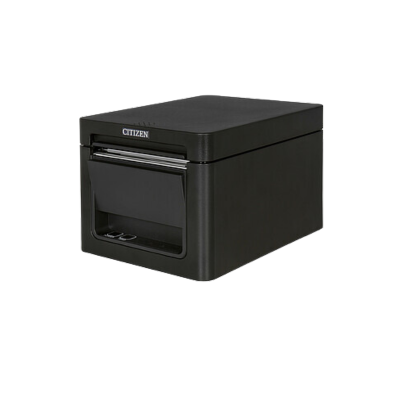 Citizen, Thermal Pos, CT-E651, Front Exit, Usb & Lan, Black
For leasing options, please submit an application here.
Style and substance
Quick and convenient, the 300mm/s, front-exit CT-E651 is perfect for hospitality and retail alike. The front exit for hospitality protects the mechanism from spills and crumbs. In retail, the compact footprint fits perfectly beneath all-in-one retail systems or alongside a cash drawer - after all it is the same height. Add to that, Bluetooth and WiFi interface options for great connectivity.

Stylish design
The compact, cubic design makes the CT-E651 one of the most stylish and sleek printers on the market as well as minimizing its footprint. Its bold black and pure white colors and LED controls create a visually stunning and eye-catching aesthetic.

Built to last
Reliability and high performance are ensured with the CT-E651. During its lifetime, the autoretracting cutter will make 2 million cuts and the machine will print 20 million lines.